"A fine collection of traditional and contemporary timepieces for the workplace."
42 Old Camplain Rd., Hillsborough, NJ 08844, USA | Toll Free: 1-877-514-9442 or (908) 256-4458 | Questions? email: [email protected]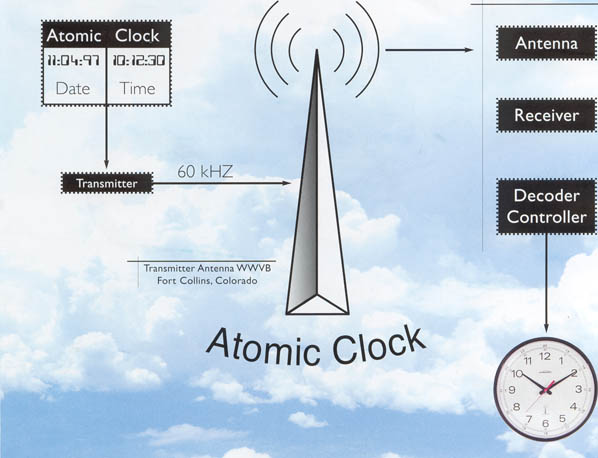 The History of Atomic Time Technology
The U.S. Atomic Clock is operated by the National Institute of Standards and Technology (NIST) in Fort Collins, Colorado. NIST transmits a low frequency radio signal, throughout the continental United States, that broacasts the accurate time for the country and is operated by the U.S. government. The first cesium atomic clock was built in 1955. It was also the official clock for the countdown to the new millennium.
This technology had previously been used by radio and TV stations, railroads and even NASA. The same technology that was used to govern ship movements, spaceflight, radio and television stations is now available to help consumers manage meetings, appointments, and busy family schedules with accurate time.
This technology has been used quite extensively in Europe and now is being introduced to America. Recent boosts in signal power have allowed wide spread access by the American public.
An atomic watch calibrates its internal oscillators with the signal received from the Atomic Clock, measuring time by counting the atom oscillations. Atomic clocks are stable... unaffected by factors like temperature, pressure, or humidity. Atomic Time products are electronically tuned to the WWVB time signal transmitted from Fort Collins, Colorado.
Close Window